Inspection of Electromechanical Equipment
The inspection of equipment such as pipes, pipelines, storage tanks, boilers and pressure vessels, among others, is the object of action of the GIA O&M area through its team of mechanical engineers and qualified inspectors.
We invest in state-of-the-art technology for the inspection of welded joints, materials and process equipment in the manufacturing, assembly, operation and maintenance phases, as well as in the operational discontinuity (decommissioning) stage.
Several greenfield and brownfield projects have made our contribution to quality control of their works through our team of engineers and experts working in the field and in integrity engineering consulting, as well as advising the maintenance of our clients' operational plants in multidisciplinary activities such as inspections, testing, testing and technical support to equipment integrity management.
To help our clients make more assertive decisions we also implemented a solution for risk-based inspection – RBI, in which each component of the asset is evaluated for the probability and consequence of the damage.
Non-destructive testing (ENDs) are widely used in electromechanical inspections in order to assist in the identification of the extent and root cause of existing damage.
Conventional ENDs are used both in quality control in manufacturing and construction/assembly and in the operation/maintenance phase of assets.
Special ENDs are more destined for the operation phase, aiming at the safety and risk assessment of the assets and for defining their maintenance plan.
Conventional Non-Destructive Testing
» Visual and dimensional welding
» Penetrating liquid
» Ultrasound
» Magnetic particle
Special Non-Destructive Tests
» Ultrasound C-Scan
» Robotic Visual Inspection
» Phased Array and ToFD Ultrasound
» Magnetic Flux Leakage (MFL)
Quality Control / Third Party Inspection
Quality control involves activities and services to meet the quality control required for the manufacture, construction, assembly and/or commissioning of assets. These activities are carried out by technical staff and highly qualified professionals.
The following are the types of services/products available:
» Welding Procedure Specification (EPS).
» Welding Procedure Qualification Record (RQPS).
» Qualification Registration of Welders and Welding Operators (RQS).
» Approval of Inspection sandplan (PIT).
» Raw material inspection.
» Inspection and expediting in manufacturers / suppliers.
» Romaneio inspection.
» Assembly inspection.
» Painting inspection.
Concremat bet on innovation and agility for the practice of third-party manufacturing inspections. To add even more value to the production chain, the company has developed its own digital platform to support the equipment manufacturing inspection process.
The solution designed by Concremat begins in the evaluation and analysis of inspection and testing plans (PIT), goes through inspections and field visits, until the issuance of material release certificates, centrally, with workflow of approval and real-time management by those involved in quality control (buyer, supplier, third party inspection company, inspector and internal and/or external auditor).
This system allows the supplier to have the document collection and traceability of their purchase orders, in a digital way, with real-time information for all parties involved. For the execution of the work, the company has highly qualified professionals certified by the National Qualification and Certification System (SNQC), required by the type of material manufactured and its use, besides being accredited by ISO 9001 in the manufacturing inspection modality.
The inspection of equipment is a fundamental activity for the identification of existing damages and, thus, define the actions of maintenance intervention / repairs of assets.
Inspections are carried out internally and externally, in addition to the accessories linked to the asset. They can be performed visually and also with the aid of technology such as drones and robots.
The higher the level of effectiveness of inspections, the better the definition of risks and decision-making to remove the operating equipment for repairs at the appropriate time.
See the types of inspection performed by Concremat:
Robotic Inspection
There are external situations that make it difficult for the inspector to be carried out visually. One of them is the inspection of galleries / pipes of small and medium diameters and seated to depths that increase safety risks.
Faced with a situation like this, Concremat internally developed a robot to assist in the execution of these inspections. The robot transmits data online, which provides greater distance range traveled because there is no limitation of cable extension for this.
Risk-Based Inspection
Risk Based Inspection (RBI) is a methodology that enables the classification of risks associated with static equipment, such as storage tanks and pipes, and allows better to define the techniques and inspection intervals necessary to obtain greater reliability of the asset with the lowest possible risk.
Despite having a more opex-oriented application, RBI also applies to Capex, since it can still be used in the design phase of a plant, verifying the consequences of each equipment and/or design parameters that have focused on the probability of failures.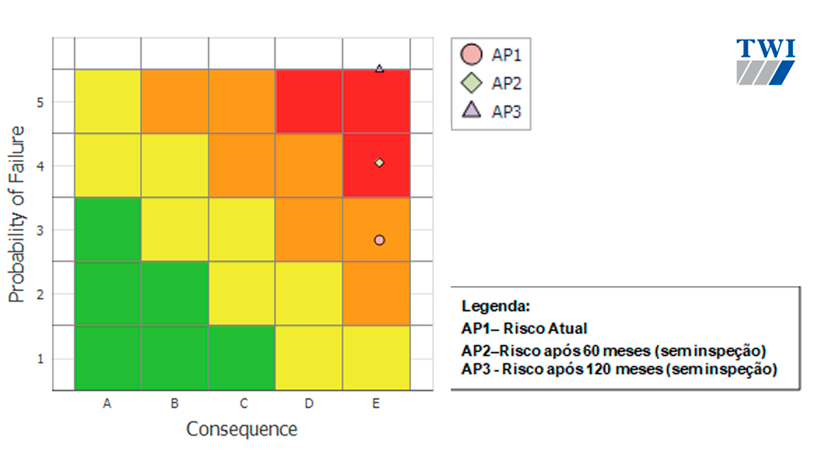 Concremat also develops other services also aimed at electromechanical equipment:
» Commissioning and/or decommissioning certificate.
» Due diligence.
» Failure analysis.
» Technical and quality specifications.
» Technical support in hiring equipment suppliers.